This is derived from a post in the Nikon RF page. Apologies, but I am totally stuck here, and this is a strange one that requires some heavy-duty Nikon expertise.
I need to take the top plate off an S3 for servicing. Easy, right? Not so much, as it turns out.
For both the Nikon SP and Nikon F, removing the wind lever so the ring underneath it can be unscrewed, enabling the top to be removed is trivial. After taking off the frame counter cover you simply lift the wind lever out with a bit of wiggling. The chrome plated lever is held onto a brass ring with three screws, and it is not usually necessary to separate the two parts. The design is almost exactly the same for both cameras.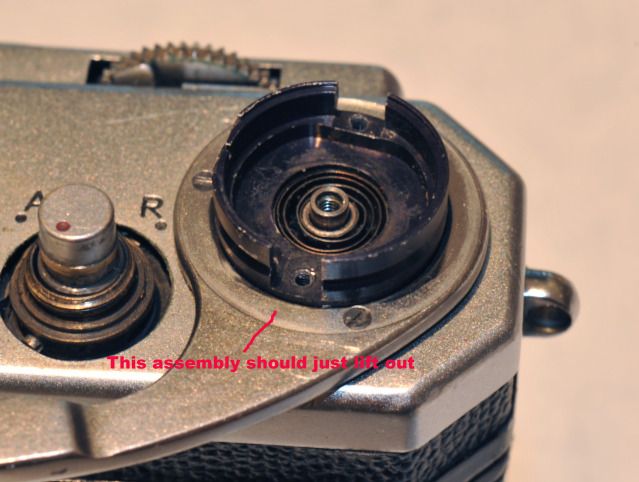 But it appears my S3 is different. The lever will not lift out, so I removed the three usually-unnecessary-to-remove screws, only to discover that the ring part (actually appears as three crescent shapes) has an inside diameter that is actually smaller than the outside diameter of the housing above it- impossible to lift out. Not a fault of observation, it really is smaller. The housing also appears to be impossible to remove, that is, until the top is taken off.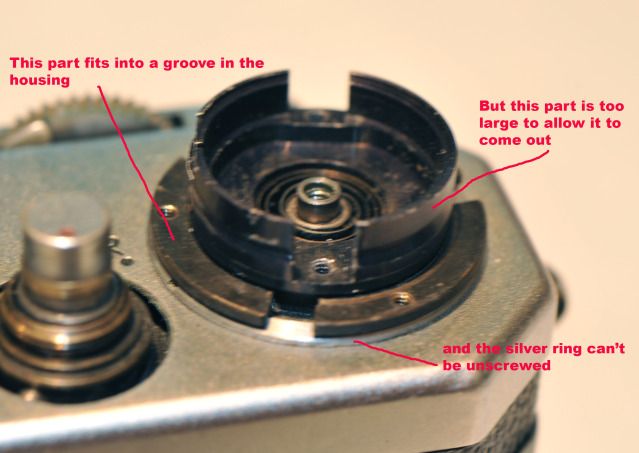 That situation is obviously impossible, as it's not apparent that the camera could ever have been assembled in the first place, so I am clearly missing something. Can somebody please give me a hand with this one?
The construction is very different from what I normally see. Usually the wind lever and the flat brass ring that screws onto it are flat, and bayonet onto pieces below. Not the case here. The brass ring is a very different shape, and has a L-section that extends down into the body of the camera.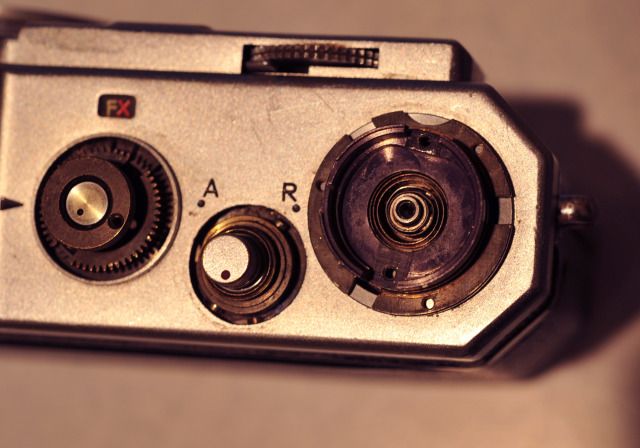 In this picture I show how the ring is retained by the upper housing. the interference is ~0.5mm. The upper housing is not slotted- nothing can bayonet onto it, and obviously it must be removed before the wind lever and its attached brass part can be removed for access to the top cover retaining ring.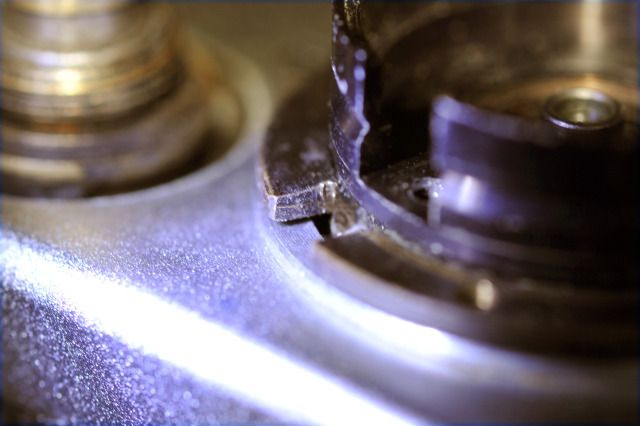 It looks like the housing may unscrew, but it is only aluminum, and I want to know what I'm doing before trying to do so.
The camera is not a particularly early S3, so it's no prototype. Why on earth would the design be different from the F and the SP????
Cheers,
Dez