Unlike Zeiss for Sony, the Fuji X version of these lenses have an aperture ring.
Normally I would prefer it that way but the ring is so loose it can and does move without the photographer realizing it has done so.
Not good to be at 1/500 f/8 when you thought you were at f/4
Placing a rubber band around the lens barrel and partially on the aperture ring is a low (real low) tech way to solve the problem.
The amount of drag can easily be adjusted by changing the degree to which the rubber band is in contact with the aperture ring vis-a-vis the fixed lens barrel. Aperture now changes only when you make it do so.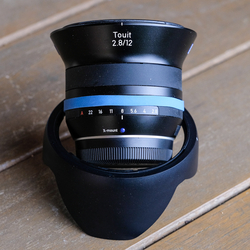 This rubber band is 2.25" in diameter and .25" wide.
Came with a bunch of asparagus.
Its "Zeiss Blue" color is just a coincidence. :-)