I was searching on the internet for how to do this and couldn't find anything. So, I experimented with a 35 ECR that I was overhauling and whose rangefinder needed adjustment.
I was successful, so I've posted the results for anyone else looking for this information.
Remove the top (straightforward - three screws, no attached wires). Remove the shiny plastic cover on the rangefinder assembly which is only glued, no screws.
To adjust the vertical alignment, you will see a small 'cog'. Rotate this to the left or right with a fine pointed tool to adjust. It is quite sensitive, only very small movements are necessary.
To adjust the horizontal alignment, there is a small hole at the front of the compartment as shown in the photo. You can see the screw through this.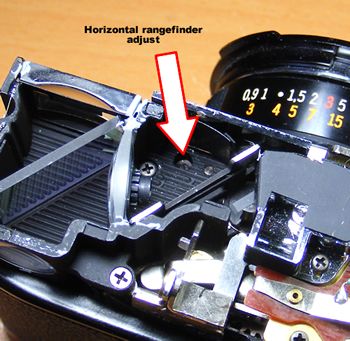 I hope this is of some help to anyone in the same position.