Many folks here at RFF need little introduction to Al Kaplan or his wonderful photography. But if you're new to the man and his work, you're in for a treat! As part of our continuing effort to spread his photos to fresh eyes, we've put together an exhibition in New Bedford, Massachusetts (east of Providence, RI and south of Boston) – where Al was born, raised, honed his eye, and then ventured out to Provincetown's budding bohemian scene and beyond. We'll also be featuring some vintage camera and darkroom equipment as part of the show (of the same make that Al used) to help explain to any visiting young'uns what went into getting these shots in the decades before iPhones and Instagram...
– Brett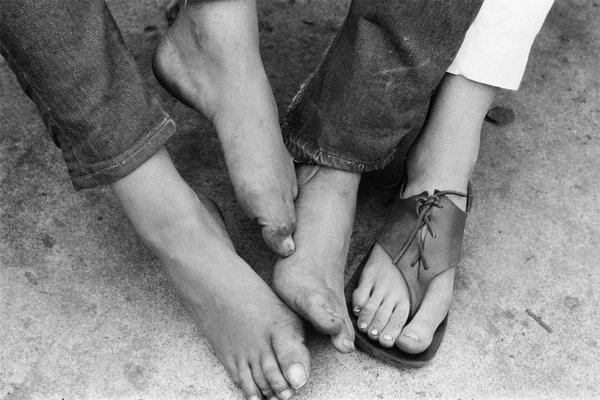 Al Kaplan, Mystery feet and unknown toes, Provincetown, August 1962
Al Kaplan's Provincetown 1961-1966
A photography exhibition featuring Al Kaplan's images of Provincetown, Massachusetts' early 1960s bohemian milieu, from future Andy Warhol Factory film star Rene Ricard to the libertine scene unfolding inside gay rights pioneer Prescott Townsend's legendary treehouse.
July 11 - September 17, 2017
New Bedford Free Public Library
613 Pleasant St., New Bedford, MA 02740
Monday through Thursday: 9:00am – 9:00pm
Friday & Saturday: 9:00am – 5:00pm
Admission to the exhibit is free.
Gallery talk: July 11 at 7pm
Accompanying hardcover book available from
Letter16 Press
.
"Here's the book that proves what I only remembered; yes, I lived in a tree fort in Provincetown in 1966 and inside is an actual photo of it. The benches, yes those benches, were the nerve center of coolness in Provincetown and bohemian studs and bad girl artists were on every corner. My favorite picture in the book? Beatnik dirty feet in sandals. We all have our twisted memories, don't we?"
– John Waters, author and filmmaker
The early 1960s were a transformational period in American culture. New Bedford-born and raised photojournalist Al Kaplan spent summers during those years in Provincetown, Massachusetts, documenting a village on the cusp of changes which would soon engulf the entire country. In black and white photographs taken between 1961 and 1966, Kaplan's lens recorded activists, artists, gay & lesbian bohemians, and nonconformists of all stripes — living at a time when nonconformity could carry the consequences of an arrest, a beating, or worse. The exhibition
Al Kaplan's Provincetown
, opening at the New Bedford Free Public Library on July 11 and running until September 17, showcases the photographer's images from that period, offering a unique insight into the era as well as a prism for better understanding its enduring effects on today. At 7:00pm on July 11, Brett Sokol — a Miami-based arts journalist, contributing writer for the New York Times, and the editor of a book collecting Kaplan's Provincetown photos, There Was Always a Place to Crash — will give a gallery talk at the Library spotlighting Kaplan's work and his intimate connection to the city of his birth.
"I think Al would be tickled to see his '60s work now highlighted by museum curators as a way to help uncover history," says Sokol. "After all, at the time Al and his friends—both straight and gay—were simply living their lives as Al captured it all on film. But it was precisely that casual approach, married to Al's skilled eye, that produced such an intimate portrait of a particular time and place."