Great machines! Those were the days....de rigeur meant a pair of Fs,F2s,F3s with drives and lenses from 20-180. The memory still brings a twitch to my shoulder.

Local time

10:01 AM
Joined

Oct 12, 2007
Messages

3,537
I always thought the Canon F1 with motors looked elegant. But I've never used one.

My F2 motor was totally reliable. When I finally sold it, I had been using it for about 13 years for daily news photography and it never saw the inside of a service center. It looked like hell, scratched and dented with the battery check window broken and areas worn down smooth to bare metal. Yet it continued to work even after being dropped, knocked, dunked and dipped. In contrast, my F3 would stop working on a morning with heavy dew. My FM motor would stop working for no apparent reason at all and it ended up smashed on the sidewalk in a fit of anger after one more failure in the middle of an assignment (I did have a back-up, of course).

Nikons with motors looked industrial.

Local time

10:01 AM
Joined

Jan 18, 2009
Messages

3,789
I hear you on the FM motor, especially the MD-12. Have had one for my FM2N for twenty some years and it just sits at home. Can't remember how many times it has quit/jammed in the middle of a shoot, for no apparent reason. Have heard so many stories from others who have the same experience. IMHO Nikon did a great job on the ergonomics of the MD-11/12, they fit my hand beautifully, but the totally dropped the ball on the mechanics/electronics.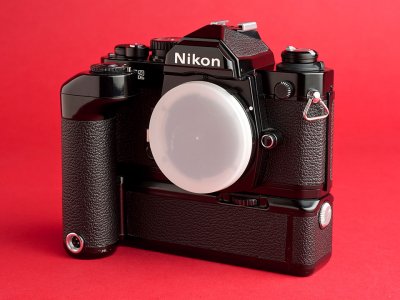 It's a shame really, as it made a nice little package with the FM & FE cameras.
Best,
-Tim
I don't have any Nikons any more, but spent lots of time with Fs and F2. I always had a soft spot for the handling of the F36. This one belongs to my friend John. He shot many concerts and album covers with it when he was at UC Boulder.....The Nikon was good to him as he stayed in journalism and finished his career as publisher & editor of the
LA Times.
The Nikon still sits on his desk.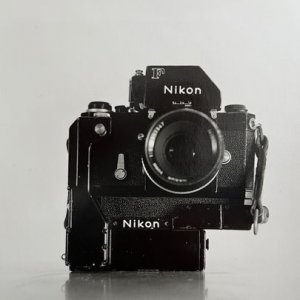 I always thought the F3 was the most elegant of the Fs and despite fears about electronics, mine sure served me well!
No love for the Minolta SR-M? I realize these were minuscule in sales, popularity, and prestige compared to the Nikon and Canon juggernauts, but I would think Minolta's gutsy decision NOT to make the motor removable would have simplified the engineering problems quite a bit...
At the time the SR-M came out, as a student, my camera was the most expensive thing i owned. Once i used Nikon and then Leica rangefinder, there was no experimenting.
28 September 1986, the Space Shuttle launched on a cold winter day. We watched close by from our front yard in Melbourne Beach. There were about 50 press photographers at the press site, each with a Nikon or Canon, 500mm lens, and motor drive. About 60 seconds into the flight all but 2 of the press photogs had held down the motor drive to run through the roll and rewind the film so they could start packing up to try to beat the crowd out. Only two photographers stopped short of finishing and rewinding the roll. One was my friend Michael R. Brown of the Florida Toady newspaper, the test for what became USA Today. 73 seconds into the flight, the Challenger exploded. Michael's remaining frames made the front page of just about every publication around the world and got him a Pulitzer nomination. All because he did not take the short cut provided by his motor drive. I've been saving those last few frames on a 36 exposure roll for 37 years since but nothing of significance has become of them.
Always!....that was
the
habit
This site uses cookies to help personalise content, tailor your experience and to keep you logged in if you register.
By continuing to use this site, you are consenting to our use of cookies.