Local time

11:16 AM
Joined

Jul 14, 2013
Messages

10,143
Real world check.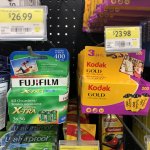 Before Covid, X-Tra was about the same price if not more, but rare to see at local Walmart. Kodak was 15 CAD instead of 24.
I used to buy this Kodak 24x3 pack to keep my little stash. I looked at it is new price and ... screw da Kodak.
I got couple of Instax Mini film packs instead. BrouHaHa. :shootout:
Local time

10:16 PM
Joined

Mar 28, 2009
Messages

9,088
If I'm not mistaken, Robert Reich recently also wrote that inflation was the highest in 40 years, and corporate profits the highest in 70 years. Cheers, OtL
Local time

11:16 AM
Joined

Jul 14, 2013
Messages

10,143
Not for everyone, but bulk loading e.g., Foma or Orwo can save a bundle. M y last purchase of a couple tins 400' Orwo comes out to US $2.50/roll, plus time. Even more savings if develop at home. You can even bulk load some color films, but I don't know much about that. You MF cats are out of luck.
I went BL right at 2012, because per roll it was for hipsta/webster priced. By 2021 even BL became greed show. Foma is no good price film now, so is Orwo which is not real brand, but repackaging of Arista, West Europe something anyway.
If you think C41 or even fresh ECN2 film still comes in cheap bulk, you are in long illusion for a long time.
Here is no cheap film left, period.
Local time

11:16 AM
Joined

Oct 14, 2020
Messages

300
I've been bulk loading Ilford HP5+ for a couple of years now. At $85 per 100', it is still not bad. Even better, bulk loading allows me to make 24 exposure rolls regularly and even 12 exposure rolls for camera testing. For these reasons, I would bulk load if it was not cheaper.

I do have a roll of Santacolor100 that I got at a good price with the crowdfunding. Now it is $206 shipped to the USA. I wish I had bought more at the introductory price.
Local time

11:16 AM
Joined

Oct 14, 2020
Messages

300
$206 for a roll of 35mm film. That is just stupid. Maybe it its a typo? $26?
Sorry; I wasn't being clear. I was talking about bulk rolling film. The Santacolor100 price I mentioned was for a 100' roll. That makes it $10 to $11/ roll if you load your own cassettes.
This site uses cookies to help personalise content, tailor your experience and to keep you logged in if you register.
By continuing to use this site, you are consenting to our use of cookies.