Hello all,
I am looking to purchase a used Leica camera from eBay and saw a nice set listed by this seller with ID
used-photo
but he does not ship to Singapore. He suggested that I visit his online store
www.used-photo.de
instead to purchase the camera.
May I check with fellow forum members (especially those from Germany), if this online shop is reputable/trustworthy to deal. They seem to be active at Social Media platforms such as Instagram and flickr as well.
Thanks in advance for any information/experience dealing with them before.
yossi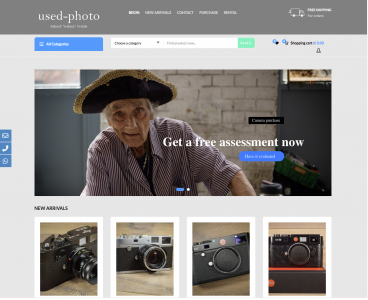 Thanks
@Arnold Layne
for the information. Did you buy the camera personally in their store or online?
Glad to hear that. They specify payment by Bitcoin and ETH which I am not familiar with, so a bit nervous to deal 😅
Thanks for all the good info. and suggestions. Much appreciated it.

Background: I was looking for a good used M9 with Sensor ID 15 or 16 (ie. non-corroded sensor). While there are quite a few M9 on sale at eBay, many sellers tend to be evasive about the sensor ID. Those clearly stated sensor replaced ones are priced much more aggressively. This seller in question stated clearly his M9 has got sensor replaced with documentary proof and he offers 1-year warranty too. Hence my keen interest to buy from him. I guess the reason he prefers to not to deal at eBay is because of the 11% eBay fee.

Posting an WTB ads at the forums for a private sale is of course another option. Not without its whole risk cf. buying from reputable shops also. Whatever it is, I will get one set of good M9 with replaced sensor this week, one way or the other.
Hoo, you got a bargain!! It looks as new, mind you the lens on it is surely worth more, at least here. I know what these are worth in Australia. Not many 9s turn up on the secondhand market . My seller says it's because most of them are malfunctioning and gathering dust on the shelf, but I reckon he is being cynical. If it's of interest to anyone, the last M9 I saw on offer in Melbourne was in the window at Michael's (now sadly closed), with the dreaded corrosion, supposedly fixed, with a fixed price of AUD $2,000 (= US$1,300). It sat for a few weeks and then sold. I still wonder who got stuck with it.

A small correction to my earlier post. The Leica Q on sale in Melbourne was the older Q, not the Q2. The latter nowadays goes for $5,000+, even then in South Pacific Pesos that is just over US $3,000 so still "a baggin'", as we say down in the Anti Podes*

(* Antipodes.)
Yes, it is a great price! The only logical explanation is that Singaporeans are mostly chasing the later/latest M10/11s and so there is bargain to be found for an "outdated" old camera M9.
(Btw the lens is a type 4 35mm Summicron. It is worth 3x its original price that I paid for many years ago. Not sure why tho.)
I couldn't wait to test this "new" Leica camera in outdoor shooting. Attached is one Summaron shot taken during this morning walk with my daughter:
Singapore is not so competitive as S Korea (yet), but going in the same direction 😔
This site uses cookies to help personalise content, tailor your experience and to keep you logged in if you register.
By continuing to use this site, you are consenting to our use of cookies.