The only one of these that I own is the 105/2.5 and it is a delight in the right circumstance. I'll have to keep my eyes open for the rest.

Local time

10:15 AM
Joined

Oct 12, 2007
Messages

3,537
The 85/1.8 was a great lens for a "short-long" focal length. I owned one at the same time as 90mm Summicron and I thought the Nikkor images were better. I also have a 105/2.5 (almost everyone has one these days). Really a very useful and outstanding lens that has replaced the 85mm focal length for me--unless I want to use the 85/1.4 Nikkor "cream machine".

I use the 24/2 AI and like it but I have a lot more experience with the 24/2.8 in every one of its incarnations over time. IMO, a 24/25mm is a near perfect wide angle focal length. All the older Nikkors I've used have great retro renderings.

Thanks for this, Jason.
I scored 7/10 on these...

I expected 10/10 out of you Brian
Local time

11:15 AM
Joined

Oct 23, 2015
Messages

592
Dear Board,
I have the 58mm F1.4 S that was my grandfather's. The lens that shot every significant, and some less than significant events in the lives of his 6 grandchildren, mostly on Kodachrome 64.
I had it refurbished a couple of years ago because of weepy aperture blades. It now sits on his Nikon FTN I inherited. It gets a roll through it every year since I had the camera refurbished.
But now that I have collected 28, 35, 135, and 200mm Nikkor S lenses of the same vintage, and I have a Lab-Box coming I plan to use everything much more frequently.
Regards,
Tim Murphy
Harrisburg PA
I expected him to be 10/10 and then add 5 more to the list. I bet he hasn't given it much thought yet.
Five that I treasure...
Nikkor 1940s Set
by
fiftyonepointsix
, on Flickr
The 5cm F1.5 and 13.5cm F4 Nikkors are what David Douglas Duncan used for "This is War". I have a 1st Edition of it to go with the lenses.
Not many of these were made before Nikon went to the 5cm F1.4 and 13.5cm F3.5, both out in 1950. I have a 1st batch 5cm F1.4 and a MIOJ 13.5cm F3.5.
Brian, I have a good copy of the Nikkor P

C

1:2 f = 85 cm Nippon Kogaku Japan lens, s/n 397784. I have read what I think is available on the net about this lens including that it was the one used by an assistant to take a shot (of him?) which caused him to visit Nikon. I have read seemingly conflicted accounts of whether he used this lens at all in Korea. Some say yes, and many say no. Would you mind adding of your own insights to that. I enjoy it greatly as a portrait lens but also for its rendition of beach shots I take here at Bondi Beach, Australia. Thanks.
Nikkor5cmF15_Sonnar
by
fiftyonepointsix
, on Flickr
This picture of DDD that I posed the lenses with was taken with the Nikkor 8.5cm F2 by Jun Miki. This got DDD's attention, as the story goes. The story goes that DDD did not buy one, but went for the longer reach of the 13.5cm F4. The latter is very good, much better than the Hektor and at least matches the CZJ Sonnar that I converted to Leica Mount. The 8.5cm F2 is one of my favorites. The one shown is off Ebay.
Last edited:
coincidental rangefinder
Staff member
Local time

10:15 AM
Joined

Aug 30, 2007
Messages

8,926
My dad bought a Nicca Type 3 when he was stationed in Japan during the Korean War.
He had Nikkor 50/2 collapsible, 135/4, and 35/3.5. All of our family photos from then until the 80s were shot with that kit, along with some 120 format taken with a Ricohflex TLR.
Here is a Kodachrome photo taken with the 50/2 of my parents and older sister on a ship to Hawaii, where they were on the way to Guam, where he would become a Typhoon Chaser piloting Boeing B-50s.
I've since acquired an equivalent MIOJ kit.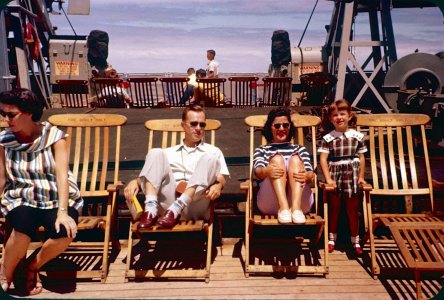 Last edited:

I came to Nikon late, but it is a lot of fun and I've learned a lot over the last few years. The closest things to classics I have are
Nikkor N 24/2.8
Nikkor H 28/3.5 (really sweet lens)
Nikkor O 35/2
Nikkor SC 50/1.4 (fun fast lens)
Nikkor P 105/2.5 (chrome nose Sonnar. Tasty lens. Only one on this list)
Nikkor Q 135/3.5 (the other Sonnar, just as fun)
All were bought as pre-AI but only the 28 hasn't been AI'd but my black Nikkormat FTn doesn't mind
I plan to eventually add a Nikkor H 50/2 for fun sometime (grumble physics not letting it be a Sonnar
) as well as a Micro-Nikkor 55/3.5 & PK-3 extension to learn macro shooting.
Oh, and now, thanks to this article, I'll have to keep and eye open for a nicely priced 50/1.2 as well LOL!
Sonnar Brian,
I read in a later edition of "This is War" DDD saying he bought a 135/3.5 rather than the f4. All the non-DDD authored posts state he had the f4. I wonder if you could please check your 1st edition of "This is War' and confirm that he says he took the f4?
The Photograph of DDD in "The Great Life Photographers" shows him holding a Leica with the Nikkor 13.5cm F4 on it.
The first batch 13.5cm F3.5 came out later than the first visit to Nikon my DDD. The 5cm F1.5 and 13.5cm F4 were in production at the same time. The first version 5cm F1.4 (5005) was in production with the first batch 13.5cm F3.5, (order 5006) which started production in January 1951- according to "Nikon Rangefinder System", Robert Rotoloni. Nikon was eager to have DDD try the new lenses, it is also stated that DDD preferred the 5cm F1.5 over the first version 5cm F1.4. Nikon recomputed the 5cm F1.4 very early, increased the diameter of the optics about 1mm. I've shot the 5cm F1.5 next to an early 5cm F1.4. The F1.5 has smoother Bokeh. I have several 5cm F1.4, 5005 batch, early one in LTM, and (at least) 7 newer ones in S-Mount. The 13.5cm F4 is every bit as good as the newer F3.5, which is a very good lens.
I just read one online article that "does not agree with others that I've read". DDD and Bristol visited the Nikon factory, Duncan shot with a Leica and Horace Bristol used Contax. I've read that Nikon custom cut the cam on the 8.5cm F2 for use on his Contax. DDD bought the 5cvm F1.5 and 13.5cm F4.
Last edited:
This site uses cookies to help personalise content, tailor your experience and to keep you logged in if you register.
By continuing to use this site, you are consenting to our use of cookies.