Maybe it can be considered "feline-y restraint"? Ouch. I apologize.
Normally that would be considered "felony restraint." But since Sneaky is a Cat, you have to obey his wishes. It's for your own good: by delaying your progress, Sneaky probably saved you from some calamity, such as a speeding car or a nearby lightning strike. Only the Cat knows.
He thinks I'm his food slave, and slavery is supposed to be illegal, too.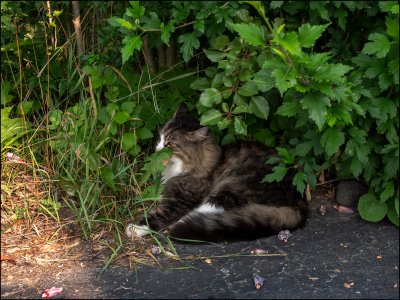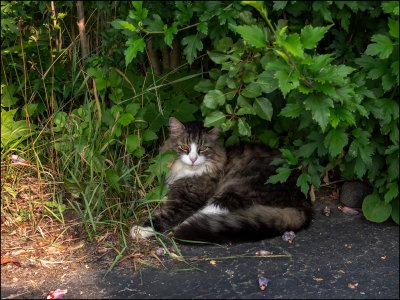 In recent posts about my cat Sneaky, I've mentioned that he had gotten lazy and had not killed anything in nearly eight months. Last night, I opened the door to find him sitting next to a dead sparrow on the doorstep, which he went to the trouble of killing in the rain!
Later in the night, around 3am, I heard a nasty catfight outside my house. I go out to see Sneaky right on the heels of another cat, chasing it through four different neighboring yards. It was still raining. He refused to come in after the other cat got away, until I shook a bag of kitty treats.
I shot these pictures of him a few days ago in his favorite hiding spot, under the rose of sharon bushes that are usually full of birds!
Tough guy that he is around the neighborhood, Sneaky still treasures the company of his humans!

- Murray
He's probably afraid another cat might get petted or (worse, far worse) fed. They get jealous. My mom has a little tortie who used to LOVE me. Before I took in Sneaky, I started taking leftover steak to my parents' Great Pyrenees dog. The cat, whose name is Precious, LOATHES the dog and wants her to die a violent death and burn in Hell forever. She bullies the dog, who is afraid of her! THe first time I fed the dog, Precious refused to have anything to do with me the rest of the time I was there. This happened the first several times I brought meat to the dog (note that Precious did not want any of it); but after that she stopped forgiving my disloyal cheating with that BITCH. Its been nearly 5 years since I fed the dog, and that cat STILL hates me.
My grandpa's cat got mad at me for six weeks once for letting her archenemy, grandpa's other cat, sit on my lap one day.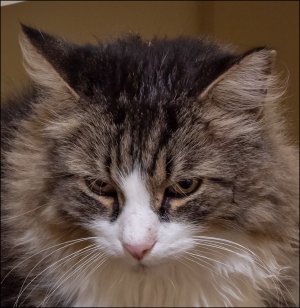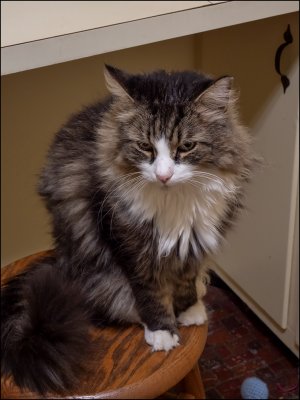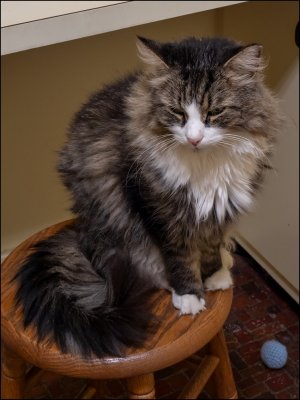 Last night Sneaky came home after another fight with his neighborhood enemies.
He had a scratch from his right ear all the way down the side of his face. I cleaned him up and it wasn't a serious cut (He'll go to the vet if it starts looking infected). He's already got scars all over his face from previous thuggery.
He ate, then slept all night afterward! He looks totally unrepentant in the photos!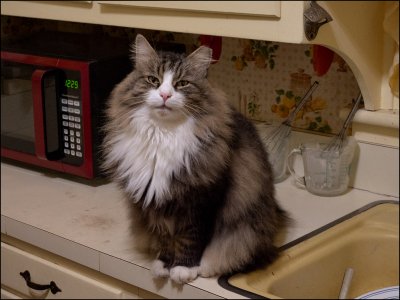 I've written before about how much my cat Sneaky HATES opossums, and attacks them on sight. I hadn't seen an opossum in my yard in two years because he scared them all away.
I just got home and found him sitting next to a dead-looking baby opossum, laying on its side curled up in the fetal position on the doorstep. I put Sneaky in the house and my son and I went back out to look at the opossum. It had stood back up and there was blood under its back feet. After a couple minutes, it started walking away; one of its rear feet was mangled. It disappeared into the bushes by my driveway.
The whole time, we could see Sneaky sitting in the kitchen window glaring at us. When we came in, he sat on the counter and stared at us with an angry look. He's pissed that we helped it get away by putting him inside. He hasn't killed a mouse in nearly ten months.
He doesn't look too upset; I think he's waiting for his reward.

One day I heard a screech from my backyard and went out to investigate. Between the branches and leaves of my cedar and dogwood trees I saw a cat and it had some creature dangling from its mouth; I thought it was a large rat. As I approached, the cat dropped its prey and went under a tree. Moving closer, I saw that the dead creature was a small bunny. Our neighborhood is overrun with rabbits (more accurately, wild hares). Satisfied, and sensing the cat was watching to see if I'd steal its kill, I turned and went inside. A few minutes later I noticed the cat had retrieved the dead bunny; I'd like to think the cat respected me for leaving its kill alone.
My grandpa's cat used to kill bunnies all the time, and he didn't like her killing them. Mice and snakes, yes; but not bunnies. One day she was torturing a baby bunny and he picked her up and put her in the house. She hissed at him and tried to scratch him!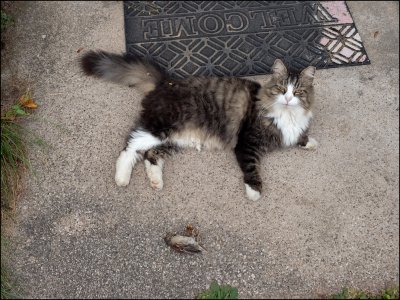 Posing with his kill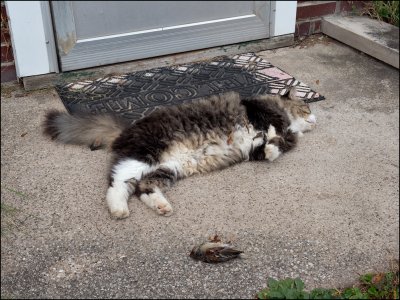 Relaxing after all that hard work!
I went out this morning to run an errand, and Sneaky went outside when I left. When I got home 20 minutes later, my furry little serial killer was laying on the doorstep next to a dead sparrow. After going most of the year with no kills, the last month or so he has been on a spree. This is his third sparrow, plus the baby opossum, in the last 6 weeks.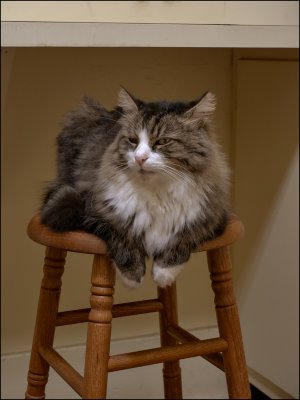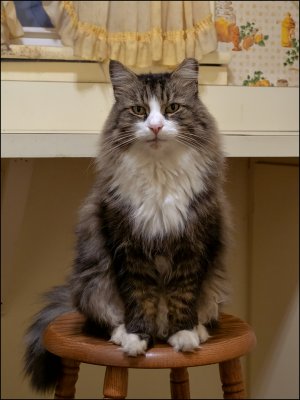 Sneaky was most displeased that I was cleaning up the kitchen so I could cook dinner, instead of feeding him. He sat on his "Feed Me" stool and glared at me until I finally fed him. Then he rejected the food until I added some cat treats to it!
He'll be happy later; I'm getting ready to grill steaks; and I'll grill a chicken tender for him, too. He likes his steak with chicken mixed in. 🥩🍗
This site uses cookies to help personalise content, tailor your experience and to keep you logged in if you register.
By continuing to use this site, you are consenting to our use of cookies.